I've been playing music as a DJ to people for over 20 years. About 5 years ago I decided to bring my style of DJing to the wedding industry, and I was going to change the game. Instead, the 'game' has changed me – and I am so grateful for it.
When I started DJing back in the mid 90s, being able to mix was what it was all about. Of course playing the right song helped, but if you couldn't string two tracks together seamlessly then it was called a 'trainwreck', and you were a sucky DJ. I used to think wedding djs were 'cheesy'. But not me. I wasn't cheesy. I was going to be the coolest wedding dj on the block. Well, I was in for a bit of a rude awakening.
I quickly realised that silky smooth transitions, quick mixes and a cool haircut weren't always enough to blow minds. Don't get me wrong – sometimes my weddings were amazing! But other times I left weddings disappointed that it hadn't been the rocking party that I had hoped for. I would ponder this on the drive home and in the days following some weddings…..Why didn't people dance? Why did people leave early? Why didn't they seem to have fun? What could I do to make the next wedding better?
I realised that I was a bit of a 'one trick pony'.
On top of all this – I was going at it alone. I didn't talk to other DJs in my market. They were the competition. I was aware of them and their Facebook groups….but I was on the outside looking in. I tried to find out about them. I sent a few of them enquiries pretending to be a bride. I had so many questions and I wanted answers. I was hungry for knowledge but didn't know where to look.
Then one day, Lee Bevington sent me a message inviting me to join a Mobile DJ Facebook group. A whole new world opened up to me.
Through that group I learned about Mark Ferrell, Bill Herman, Jim Cerone, Jason Jani and Randy Bartlett. I got to learn about Glenn, Peter, Serge, Steve and so many others – and they learned about me. I have a particular skill set and I was invited to present on it at the DJAA National Conference not once, but twice.
My area of expertise isn't seen as necessary by many in the industry, and that's ok. I now understand that mixing isn't everything. Rather, I look at it as one of the many tools in my ever growing toolbox. I now get out from behind my console and interact with guests. I'm learning how to host, and how to be a better master of ceremonies. This journey has taken me to MarBecca workshops with Mark and Rebecca Ferrell, a Perfect Host workshop with Jim Cerone, a 1% Solution workshop with Randy Bartlett, DJAA conferences in Melbourne and Brisbane, and Mobile Beat in Las Vegas.
It sounds cliche, but the more I learn the more I realise I have yet to learn. I have learned, and will continue to learn from so many in this business who are only too happy to share knowledge, offer support and try to help lift this industry.
I hope to continue to grow and improve as a wedding DJ, and as a person, with the help and support of the network that I'm fortunate to be a part of. I especially hope that I may somehow give back, and that one day I can help grow somebody else's 'toolbox' too.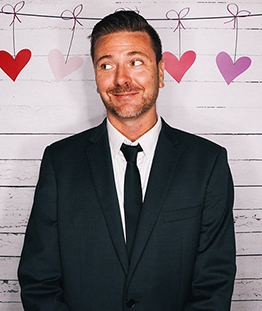 This post was contributed by Aaron Duncan. Aaron is an Accredited Member of the Alliance and an ABIA Award Winner and is based on Queensland's Sunshine Coast. He currently holds a position on the DJAA Committee and together with life partner Mel runs Cut A Rug. Cut a Rug is a bespoke wedding DJ and MC service created to make your big day the amazing dance party you want it to be.